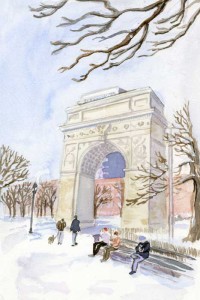 This past October, I got a job from NYU to do a watercolor for them. I've mostly done graphic design jobs in the past, and on one of those projects, I did a watercolor. Apparently, the card with the watercolor got a great response, and so they wanted me to do another watercolor for the holidays.
I went down to Washington Square Park to snap up some pictures of the arch (it's like a symbol for their university Im told), try out different angles etc.. I loosely traced the picture on the lightbox, so I had the precise proportions of the arch. I have to mention that for me, drawing architecture is hard because I don't have a "feel" for the proportions. When I'm not careful, I make the windows too big in relation to the building, and then I can't fit the appropriate number of windows. I'm trying to get better at it by drawing on location, but in the meantime, there's the lightbox.
Lastly, the pictures I took were in October, so the trees still had leaves and people were dressed pretty light. So I changed that, looked at some photos and paintings of the arch in the winter online. Most of the stuff I found looked gray and depressing. I think I ended up using a bit of purple to make things a bit "happier" looking.