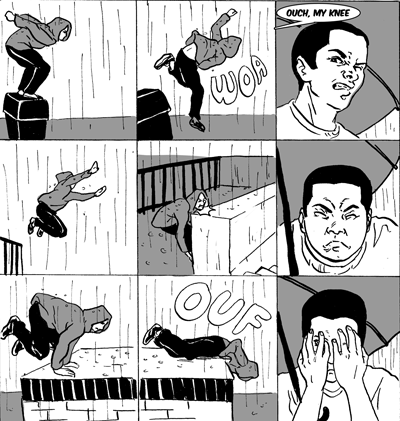 Above you can see some panels from my latest comic for the "Three-armed squid" anthology. The rest of the pages, you'll have to wait until Mocca 2013 to see.
This second issue is based on the four temperaments and my temperament was sanguine (actually my temperament is melancholic according to an online test). I actually had a rough idea for a story from the getgo, but I couldn't figure out a way to make it work visually within 4 pages. To be honest, I'm not super proud of my submission. For one thing, I'm afraid it's corny, and secondly, I really need to sit down and focus on mastering the nib pen. For whatever reason, drawing with the the nib pen is very uncomfortable and my drawings end up looking terrible.
So what I just wrote is not very good promotional copy for Three armed squid. Despite my feelings about my entry, it should be a good issue because we've got about 8 contributors for this issue, so more awesome stories to read.