A few months ago, somebody approached me to do a custom diorama for them. The diorama was intended to be a present for a scuba-diving couple. The gist of the assignment was to draw the couple doing what they do: salvaging 16th century wrecks and a specific specie of coral found in the Dominican Republic. Since the couple has received their present, I can now do a blog post to show you the different steps that went into this piece. The first thing that I took into account was the frame I would use for the piece. In this case an IKEA RIBBA 9×9 shadowbox which I've used to display my small dioramas.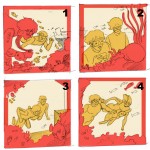 After deciding on the dimensions of the diorama, I next drew some thumbnails of different compositions. The colors in the thumbnails represent the different layers of the diorama. Me and the client agreed on composition number 1
The second step was to draw a full size sketch of the composition. By that point, I had gotten reference photos of the couple to work from. I researched what fishes were common in the Dominican Republic. There was a bit of confusion on the specie of coral I was supposed to draw, whether it was elkhorn or staghorn. Once the sketch was approved, I had to start the final linework, that is to say, draw the three layers separately.
The foreground layer just had to be lightboxed from the sketch. The middle and background layer needed more work since the foreground layer hides them. I was still trying to find visual reference of 16th century shipwrecks and came to the conclusion that those wrecks don't look like ships anymore. I thought drawing an actual wooden ship would be more interesting than drawing shapeless rubble, but the client wanted to be realistic.
I scanned my linework and proceded to color it digitally. As you can see in the images, I colored it using masks. The foreground and middleground has 7 colors, the background has 5 colors. Once I was happy with the colors, I painted all the colors black to print out my silkscreen separations.
Next step is to silkscreen the work. It was an edition of 10, with just two printed on archival paper. The reason I made extra copies is so I wouldn't have to worry about messing up a few when I would cut and fold the piece.
Last step was the cutting phase. I actually ddn't have any precise idea on how to cut the layers. I strive to cut as much paper as possible and be very close to the lines, but I also have to take into account that extra paper gives the piece more support. So I experimented to see what worked best.