I'm working on a comic anthology with a couple other people called "Three-armed squid". We will have it done just in time for Mocca, and each one of us will contribute a four page comic using the four seasons as a theme. My theme is "summer". Original my idea was about an office person stuck in an office while people outside were enjoying the summer, but then I realized that I don't enjoy drawing office spaces. Looking for inspiration, I saw a photo I had hanging up on my wall (see below)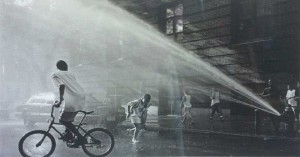 The photo is by Markus Hartel, with whom I used to work with when I was at the ad agency. So I used it as my inspiration for my story which is about a couple of boys seeking to quench their thirst. In terms of drawing style, I wanted to try something different, a little looser. Here are the first and last pages from my comic.
The other contributors to the anthology are Kim Ku (doing Fall), Alden Viguilla (Winter), and Alexandra Beguez (Spring).